HeZhaoFeng Intelligent Technology (Shen zhen) Co., Ltd, a high-tech company majors in intelligent product integration and operation, was founded on March 2016, which is a branch of HeZhaofeng Industrial Co., Ltd. With cooperation with the most outstanding science and technology enterprises in the world, we now construct market sales channel online and offline simultaneously, devote to raise our own product ecosystem, focus on further development of advanced intelligent technology products and epitaxial peripheral products, aim to form an integration platform on intelligent products propagation, training, consulting, entertainment, R&D, etc.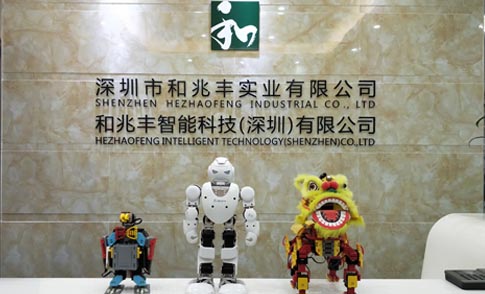 HeZhaoFeng Intelligent Technology now mainly provide UBTECH Robotics Corp(UBT) robots, Autel UNV(unmanned aerial vehicle) and other related products.
HeZhaoFeng Intelligent Technology now is the top agent in China and chief agent of Guangdong province with UBT. UBT is a high-tech company with market value up to 1 billion USD at present, which is the largest commercial service intelligent robot manufacturer on earth. The robot of Alpha S1, which owned by UBT, has become prevailing in western countries, and gloriously attended the CCTV 2016 spring festival gala and Lantern festival evening, due to its efficient patent-protected core steering gear and 3D visual coding technology. On May 2016, the JIMU series robot was market, with the capability of flexible assembling and coding, which can fulfill various imagination of the player, has been hailed to be The creative product subvert LEGO by Western press. Furthermore, robot Alpha 2 with function of man-machine interaction will be market in the near future. Other series products, such as reception robot, security robot, etc. will be presented at the end of 2016.
HeZhaoFeng Intelligent Technology has become the first strategic partner with AUTEL in China since June 2016. AUTEL is the most advanced manufacturer of Automobile Fault Diagnosis ( AFD) on earth, and entered the UNV industry since 2014. AUTEL has set up three R&D centers in China, US and Germany with professional engineers up to 300 persons. With its technical and financial advantages, AUTEL has become a new powerful strength in the civil UNV industry. AUTEL sales more than 10 thousand UNV in western countries per month, has become another world famous Chinese UNV brands. The Autel X-Star UNV equipped with the most advanced intelligent flight control system and top 3-axies pan technology, in favor of the 4K HD video and 12MP HD aerials, which will bring you the full vision of high attitude view. The Autel KESTREL UNV, which was successfully developed in 2016, can be applied to various industries, such as agriculture and forestry survey, disaster relief, topographic mapping, security monitoring, facility monitoring, aerial service and parcel delivery, etc. With its supreme long cruise time up to 2 hours and the ability to handle complicate climate situations, Autel KESTREL UNV has become the top UNV of the same class in the world.
HeZhaoFeng Intelligent Technology is a relatively young company, but operated by an experienced, vigorous and passionate team, which consists of former executives from listed company, PhDs from world-wide famous university and senior elites in the industry. With the main goal of market development and moving forward in mind, HeZhaoFeng Intelligent Technology also enthusiastically participate in all kinds of public social welfare activities, and have won tons of favorable comments from governments and social communities.
HeZhaoFeng Intelligent Technology is looking forward to cooperating with well-established companies, elite companies, powerful companies, and the most important one, ambitious companies. Let's move forward hand in hand, and make our dream come true.
联系和兆丰
地址:深圳市宝安区新安街道宝兴路西侧万骏经贸大厦1009-1011
电话:0755-29169550/0755-29169556
邮箱:Panel@126.com